Inauguração do 1º Salão de Arte em Pequeno Formato 20 x 20 / Opening of the 1st International Exhibition of Contemporary Art in Small Format 20x20 cm
FOI UM SUCESSO ESTE NOSSO 1º SALÃO INTERNACIONAL COM 16 PAÍSES REPRESENTADOS / OUR 1st INTERNATIONAL EXHIBITION OF ART IN SMALL FORMAT WAS A SUCCESS, 16 COUNTRIES WERE REPRESENTED:
Alemanha/Germany
Argentina
Austrália
Bielorrússia
Brasil
Espanha/Spain
EUA/USA
França/France
Grécia/Greece
Holanda/Holland
Itália/Italy
México
Mongólia
Portugal
Roménia/Romania
Suissa/Switzerland
Tivemos obras de fotografia, pintura sobre tela e sobre papel, bordado, cerâmica, desenho, gráfica, escultura e vídeo./ We had works of photography, painting on canvas and paper, embroidery, ceramics, drawing, engraving, sculpture and video.
Algumas fotografias da sala e do evento:
Some photos of the exhibition room and of the event: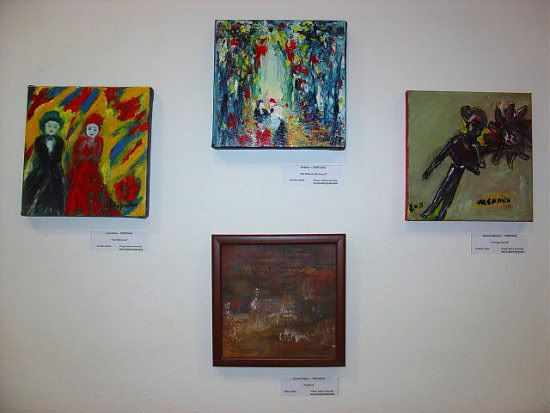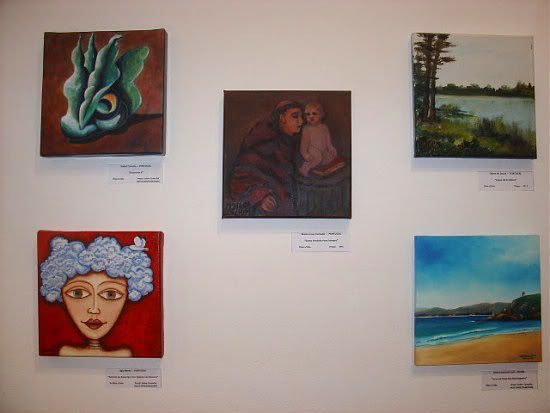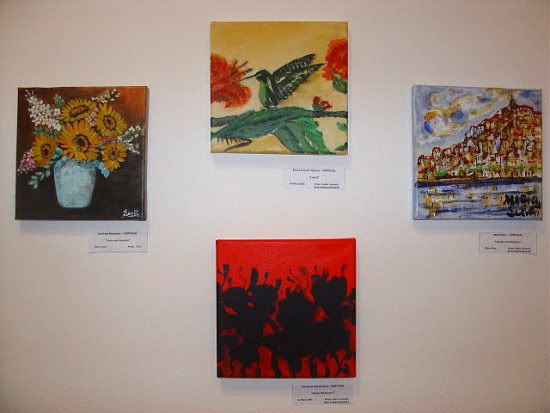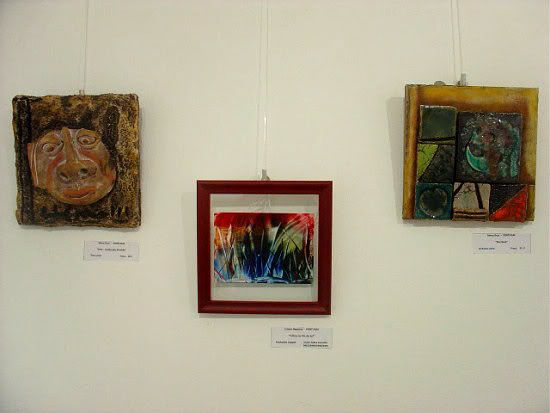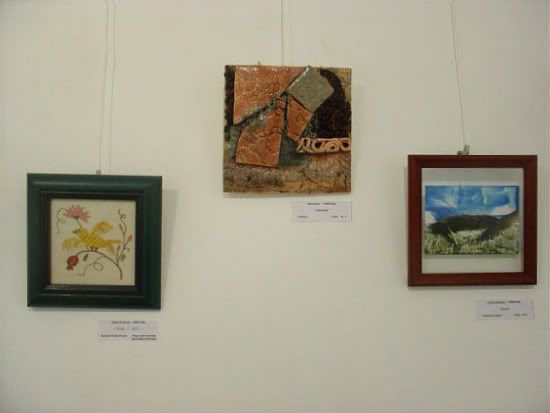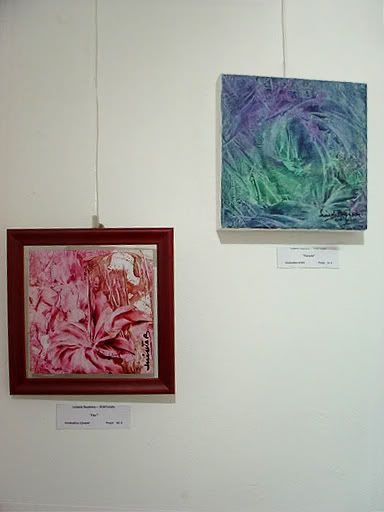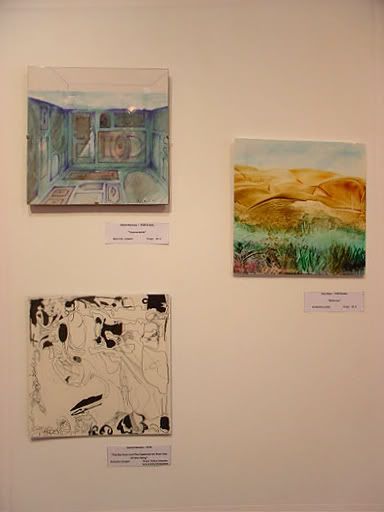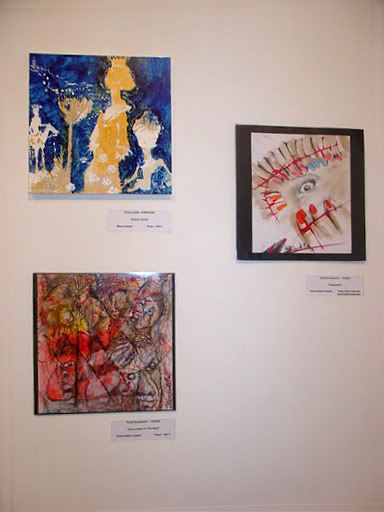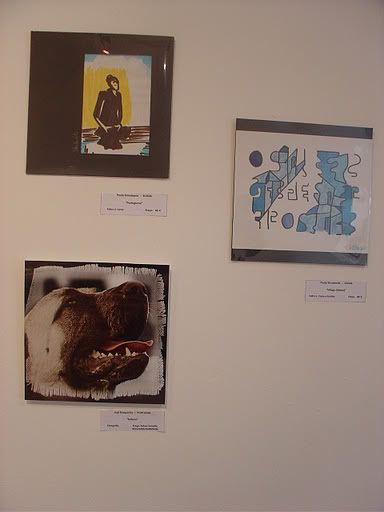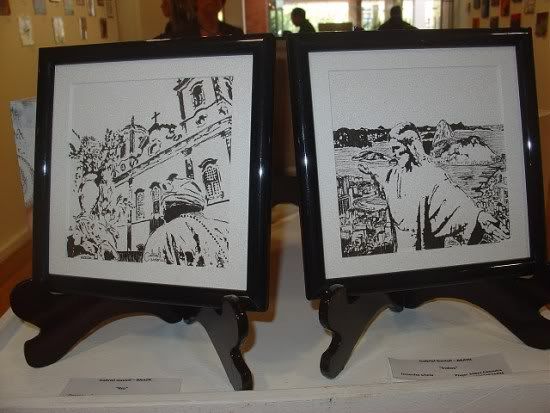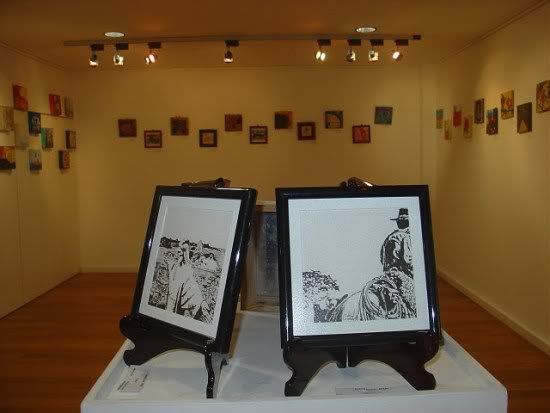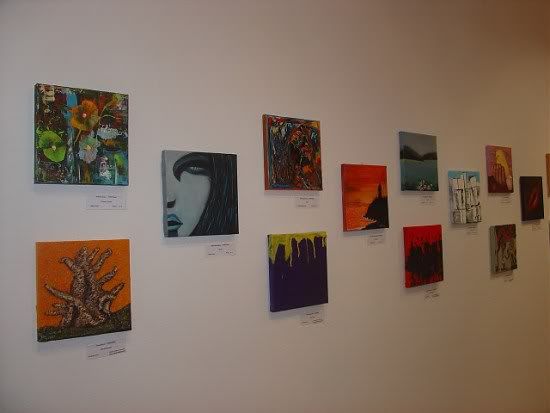 A equipe organizadora da AAAGP-Portugal (da esquerda para direita: Ana Garcia, Mimi Veríssimo, Laura Thomas e Conceição Ruivo) junto com a Directora do CAE - Figueira da Foz, a Sra. Margarida Perrolas / The organizing team AAAGP-Portugal (from the left to the right:
Ana Garcia, Mimi Veríssimo, Laura Thomas e Conceição Ruivo) together with the Director of CAE - Figueira da Foz, Mrs. Margarida Perrolas
Entre as pessoas presentes muitos são os artistas participantes, alguns vindos do estrangeiro / Among the present there are many artists, some came
from
abroad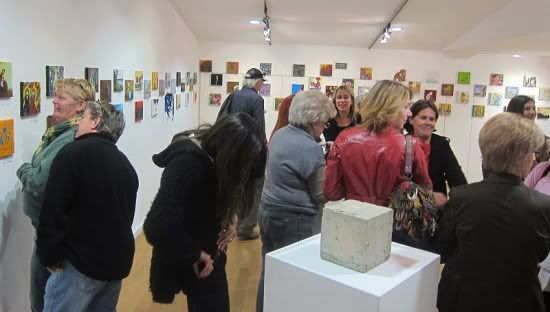 Alguns dos oficiais presentes no evento / Some of the officials that took part in the event
A votação do público, foi eleita a obra mais popular. / The public voted for the most popular piece of art.
Ganhou a escultura "Bilhete de Ida", autora Madalena Macedo (Portugal). / The winner is from Portugal, Madalena Macedo's sculpture, "One Way Ticket".
O discurso final da presidente da associação organizadora, AAAGP-Portugal, Sra. Conceição Ruivo, foi de agradecimento a todos os artistas participantes neste evento de sucesso./The final speech was of the president of the organizing association, AAAGP-Portugal, Mrs. Conceição Ruivo, who thanked all the artists that took part in this successful event.
Fotografias / Photos: Mimi Veríssimo,
Conceição Ruivo, Laura Thomas